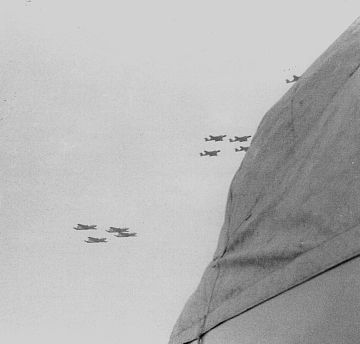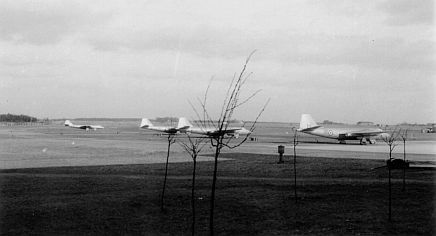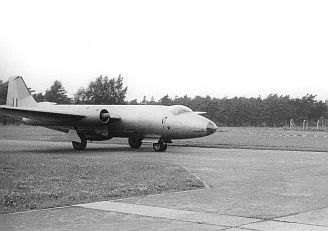 My fond memories began when I was posted from RAF Celle to 213 Sqdn

which was reforming at RAF Ahlhorn. It was several weeks later

that the first aircraft arrived. My memory is that this was in 1956

and that the C.O. (Maybe Acting?) was Sqdn Ldr Dalziel. Elsewhere on this site 1955 is quoted. Perhaps there is someone out there who can confirm or refute this.

Among the first aircraft to arrive was a trainer version of the Canberra

(Mk 4?). Typically, despite our best efforts, not everything was ready for them. This included a noticeable lack of tractors. After some discussion and experimentation we used our SWB Land Rovers to tow aircraft weighing some thirty tons (?). These coped quite well as they were very sturdy, and in crawler gear, once the inertia of the aircraft was overcome it was quite easy to keep them moving. The slight slope up into the Hangar needed care though! When the new (Deutz?) tractors arrived, those of us who were used to the old David Browns were amazed at the luxury of cabs, and comfortable seats.

Soon after forming, the Sqdn was required to become operational for

the Suez crisis. This entailed rapid familiarisation with the

aircraft, and a lot of work. We were just getting into our stride

when it all fell through. Unsurprisingly, few were disappointed by this.

The cartridge starters for the engines were multi chamber (3?), but we were only able to load one as apparently it was possible to have a backfire, and all three cartridges would ignite at once! I never saw this happen, but it must have been spectacular. Having only one cartridge was annoying if the engine failed to start first time.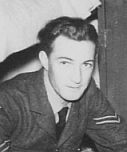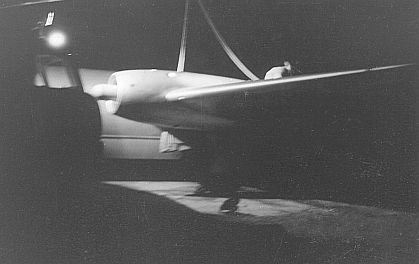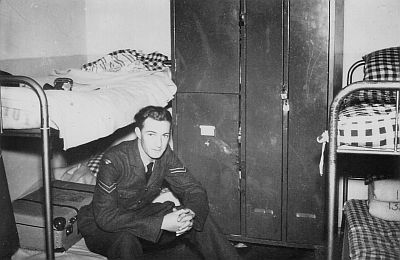 A view of the line. The nearest aircraft backs up my memory I'm pleased to say. Just visible is the yellow trainer band around the rear fuselage, and it lacks a gun pack.

Me, newly arrived in Holland, and ecstatically happy with the five star accommodation provided by the Dutch Marines.

Ray's Taxi out to Holland

In the Canberra there is a fuel tank which can only be accessed through a small panel in the bomb bay. Any work on the immersion pump, or tank, involves getting soaked in several gallons of fuel which cannot be drained. For some reason this cropped up often enough for it to happen to me at least twice.

As an engine fitter, as well as our own checks, it was often required that we run the engines for other tradesmen. One day I was doing this for an airframe Sgt, so that he could check the flaps. After putting them down and up a couple of times, he wanted them left down for a closer inspection. The rear view from a Canberra cockpit is not the best, but I saw him at trailing edge of the wing checking the port outer flap and then I lost sight of him. Almost immediately I received "cut" signs from everyone. After stopping the engines I got out to find that the Sgt had been so engrossed in his task that he had absent mindedly walked behind the engine. Even at idle this not a good idea. He was blown several feet, and scorched a little, but no lasting damage was done.

There was an old Prentice attached to the Squadron for "liaison" purposes. I had worked on the type at Cranwell, so naturally worked on this one. As I enjoy flying I was often angling for a flight (Very rare on a Canberra Squadron.). One day I managed to get a local flight in the Prentice with a very pleasant and friendly pilot. I recently found out on this site that he is now AVM Brownlow. I wonder if he remembers that flight?

The only flight that I had in a Canberra became something of an adventure. The squadron went on exercise with the Dutch navy, operating from a Marine airfield in northern Holland. I remained at Ahlhorn. A Cpl fitter with the Sqdn in Holland became indisposed, and I had to replace him. As it was urgent I was flown there, which was great. At the end of the exercise I was hoping to be flown back, but no such luck. The Engineering Officer (?) took my place. Now I swear that, although disappointed, I did not wish him any harm. The aircraft was the last to leave, and as it roared down the runway the port engine decided to put on a pyrotechnic display to celebrate the occasion, and the aircraft took a detour across the grass, whereupon it sank up to its axles in the mud. When the occupants had departed the aircraft (Rapidly!) and all was safe, we tried to dig it out, but after hours of toil, sweat, and towing, it still refused to move. It was eventually recovered to Ahlhorn a few weeks later. In the meantime I had to return in the back of a Magirus truck in convoy. I think that the Engineering Officer had a seat in a cab.

Apart from the Whitsun-Jones affair, the only other misadventure that I remember was somebody pulling the wrong lever and retracting the nosewheel of a Canberra.

Toward the end of my tour with 213 Sqdn I was put in charge of the refuelling flight. The reason for this escapes me now. Probably staff shortage. Paperwork and typing were never my strong points, and the only good thing about the job was that I got to drive large Bussing-Nag tankers around the airfield. This was strictly illegal as I had no licence, but it was fun! The only thing of note at this time was that Russia launched Sputnik 1. Soon after this I was time-ex, and so ended my stay with 213 Sqdn.