Reproduced from the 1995 (No 175) edition of Flypast with permision from the Publishers, Key Publishing Ltd.

My thanks also to their editor Ken Ellis for his kind assistance.

Click on this link to vist Flypast's webpage in a new window,

THE HORNET'S STING

213 Squadron Hurricanes and Mustangs

in the Middle East and Italy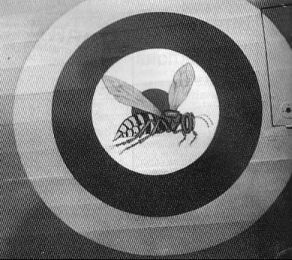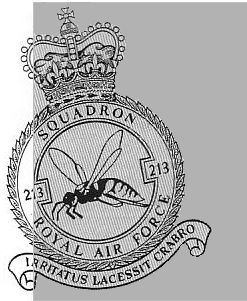 Formed in April 1918 by renumbering 13 ( Naval) Squadron, the

         unit operated Sopwith Camels until returning to the UK in March

           1919, subsequently disbanded in December. It was not until

            March 1937 that the 213 Fighter Squadron was reborn; the

            outbreak of    World War two saw the unit equipped with

           Hurricane Is, which took part in ops over France, followed by a

           heavy involvement in the Battle of Britain. May 1941 brought a

                    move on board HMS Furious to the Middle East for what

                        was to become a hectic two year period of fighter

                            operations. With the Allied invasion of Italy, 213

                               followed along and by July 1944 was operating with

                                 the Balkan Air Force out of Biferno.  A short lived

                                 interval ( Feb - June 1944)  with Spitfires gave way

                                  to the Mustang era, which  was to see the

                                  Squadron into the post war period, September

                                1945 saw a deployment back to the Middle East, to

                                       Ramat David in Palestine, followed in January

                                       1947 by re-equipment with the Tempest F.6.

                                        The jet age arrived in November 1949

                                        in the shape of the Vampire FB.5,

                                subsequently followed by the FB.9, before

                 disbandment in September 1954, A final period of life came with the Canberra B(I)6, 213 being the only unit to operate this

interdictor variant of the Canberra in RAF Germany from March 1956 to  to December 1969

The Squadron badge depicted an angry looking hornet, a theme that was taken up by Squadron artists in a variety of locations including the central element of this roundel on a Hurricane. What is not clear from this photograph is who owns the the aircraft, is it one of the 213's machines or is it a visitor who has been "stung". The Squadron motto of Irratatus lacessit crabo translates as " The Hornet attacks when roused"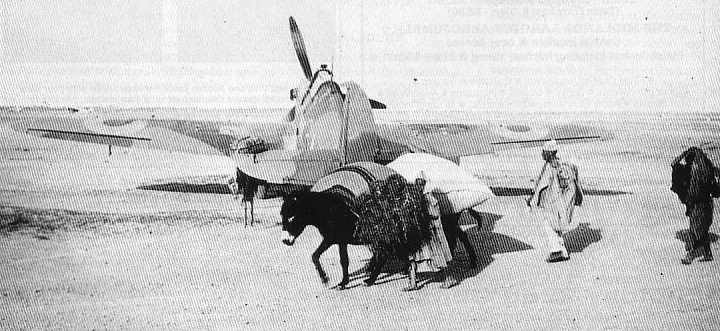 A typical desert scene - apart from the presense of a 213 Squadron Hurricane II! One of the operational stand-byaircraft at Martuba, Christmas 1942. The Squadron moved into this landing ground on November 25.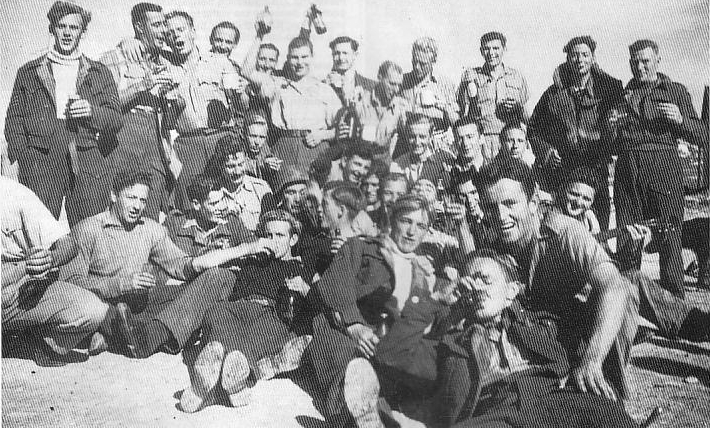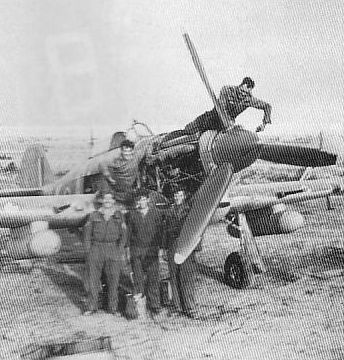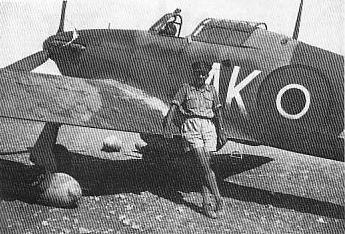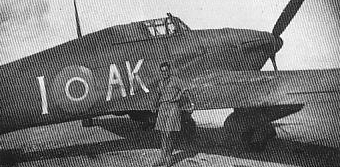 January 1943 brought a move to Misurata West from Martuba and the unit operated from this LG for the next six months. Amidst servicing a |Hurricane,the groundcrew have time to pose for a " happy snap"! Note the long range fuel tanks fitted to the aircraft

Above: Pilot Officer Jackson RAAF poses in October 1943 and Top: F/Sgt Haslam with India; both probably at Idku, although at this time the Squadron had a detachment operating at Paphos, Cyprus. Note the long range tanks on the ground beneath the wings